For much of Simone Young's conducting career, she has been branded a trailblazer. But it's a label that the seasoned maestro baulks at.
In 1986, at 25 years old, she became the first woman and youngest person to be appointed as resident conductor for Opera Australia (OA). In 1993, she became the first woman to conduct the Vienna State Opera, and then the Vienna Philharmonic in 2005. She is now the first woman chief conductor of the Sydney Symphony Orchestra (SSO), a role she landed in 2019. She is also the first woman to record Richard Wagner's complete Ring Cycle and all of Anton Bruckner's symphonies.
But Young could not be less interested in being recognised on the basis of her gender.
Speaking to ABC Arts from New York, where she is currently rehearsing Richard Strauss's Der Rosenkavalier with the Metropolitan Opera, the 62-year-old does not mince her words.
"It's completely irrelevant. I actually find it quite amusing that these days, when we're so very careful, and rightly so, with defining people by gender, and with genderising identities and so on, that somehow it's still OK to discuss being a 'woman conductor'," Young says.
"I'm a conductor — my gender doesn't matter."
While 40 years of having her gender added like a post-nominal to her job title has become tiresome for Young, it's true that she has long been an outlier in the upper echelons of the classical music world — the lone woman in a sea of predominantly cis white men.
Even now, women account for just 12 per cent of the world's top conductors.
But Young has made it to some of the most prestigious positions in classical music not because she's the exception, but because she is exceptional.
Outside of that world, however, she is relatively unknown. A new ABC TV documentary about her life and career, Knowing the Score, executive produced by Cate Blanchett, seeks to change that.
A true virtuoso
Young has been conducting for four decades and is now one of the world's most in-demand maestros.
In addition to her role as chief conductor for the SSO, she regularly guest-conducts for other major symphony and opera orchestras around the world, including the Metropolitan Opera.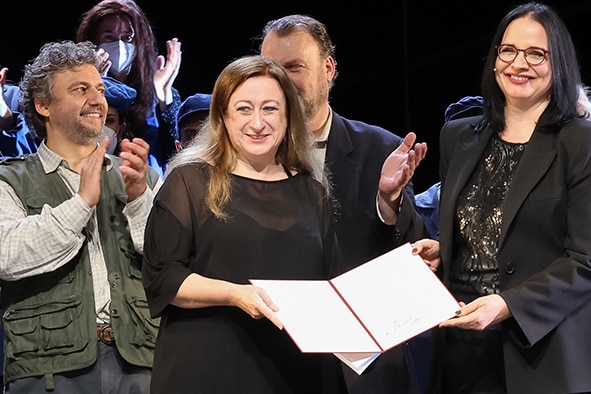 Young had been in New York for just three days before she was called to Washington to step in at late notice with the National Symphony Orchestra (NSO), after conductor Christoph Eschenbach fell ill. Most classical music programs require several weeks of rehearsals; Young had just one daytime dress rehearsal with the NSO before she took to the podium.
"Jumping in like this is kind of funny because you don't have any preparation time. It's only possible if the program you're doing is something that you've done so many times before that it's right under your fingertips," she says.
The NSO concert included Brahms's Symphony No. 2, which Young was scheduled to conduct for the SSO in 2021 before the concert was cancelled by the pandemic.
She says it's one of her "party pieces".
"I was able to do it from memory, even though I haven't conducted it in something like seven years. That's how embedded that score is in my mind."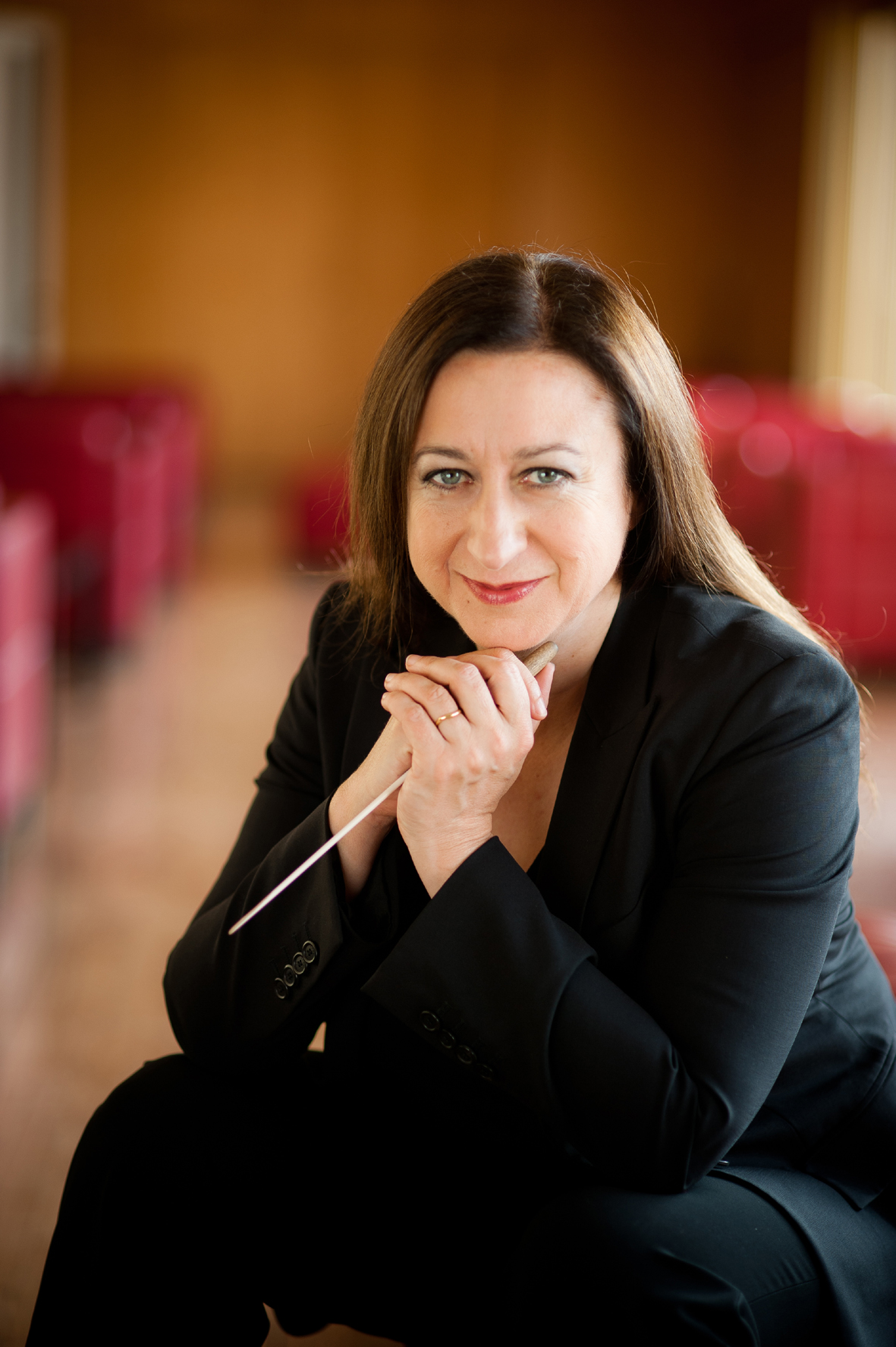 Brahms's symphony is around 43 minutes long; it has four movements and is composed for two flutes, two oboes, two clarinets, two bassoons, four horns, two trumpets, three trombones, tuba, timpani, and strings. The sheet music runs to 192 pages – all of which Young had memorised.
Young's virtuosity is undeniable. In addition to her encyclopedic memory and perfect pitch, she also has synaesthesia, a condition whereby one sense is felt or experienced as another.
"I hear keys and notes as colours … for me, sound is not an abstract", said Young in Knowing the Score.
Drawn to music
Young was drawn to classical music from an early age, although she didn't grow up in a musical household.
"We didn't even have a record player when I was growing up. We didn't get one until I was 12 years old. Any music I heard was on the radio on the ABC," she recalls.
Her family did own a piano, which she learned to play. If she wanted to listen to a particular song, she had to find the sheet music and play it herself, she says.
"I would scour church fetes and backyard [sales] to buy boxes of old piano music and I would spend hours just sitting at the piano playing and sightreading through all these [songs].
"I can't say what instilled that love of music. It was just there."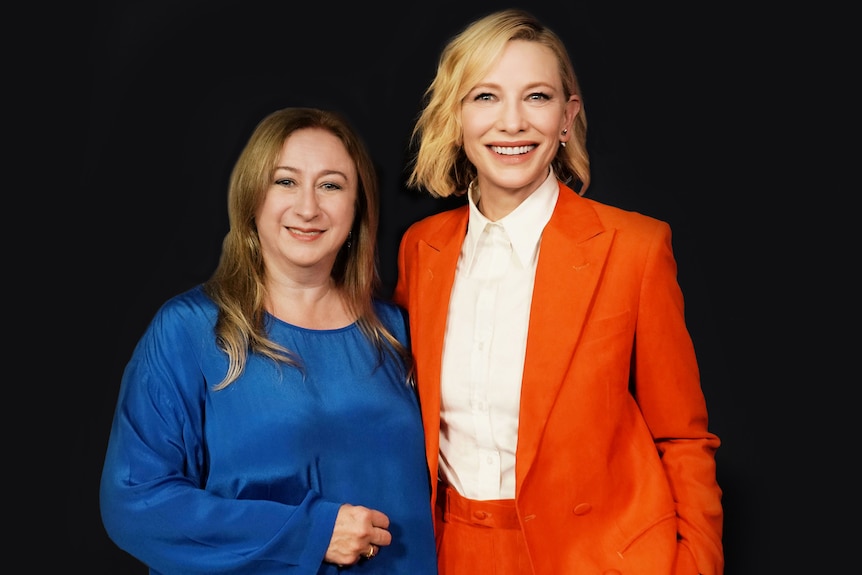 During high school on Sydney's Lower North Shore, Young had a handful of influential teachers who recognised and encouraged her talent. Then, while studying at the Sydney Conservatorium of Music, she discovered conducting.
"I grew up in a family environment where we didn't know any musicians … I didn't know that real people could be conductors. They were these sort of strange beings that you saw on stage," she says.
After leaving the conservatorium, Young began working as a répétiteur [someone who accompanies and rehearses opera singers] with Opera Australia, at the age of 22. It was there that people started to notice her prodigious talent.
A career crescendo
One of those people was resident conductor Stuart Challender, who, Young says, recognised something of himself in her.
"I didn't have any idea how you became [a conductor], and then meeting Stuart … suddenly, it didn't seem impossible or unthinkable that this might be a path that I would follow," she says.
Challender became Young's mentor and encouraged her to move to Europe to pursue her conducting ambitions, saying: "You are a big fish in a small pond. Go to Germany."
And so she did.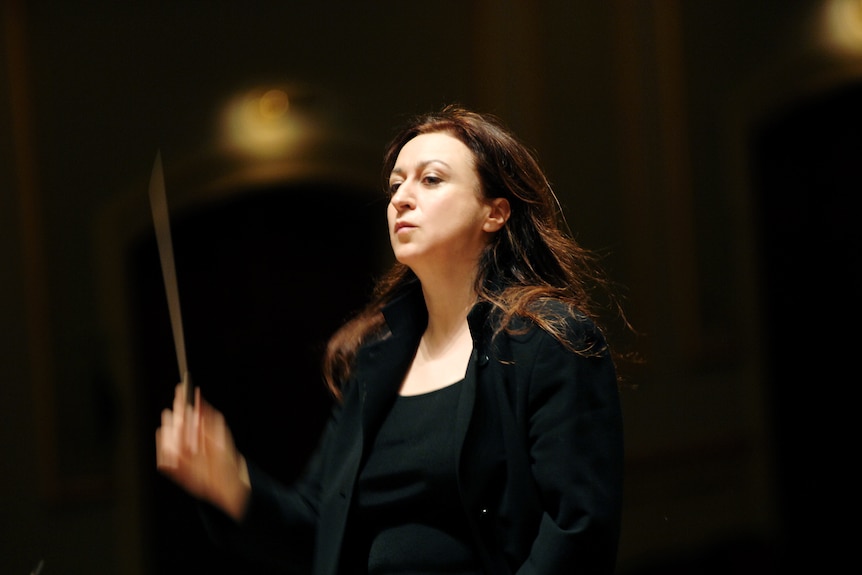 With the aid of an Australia Council grant to study abroad, she spent the next decade honing her conducting skills as an opera répétiteur in Germany — a path Challender trod before her. She worked as an assistant conductor with some of the greatest maestros of the era including James Conlon at the Cologne Opera, and Daniel Barenboim at the Berlin State Opera. In 1998, she landed the role of principal conductor of the Bergen Philharmonic Orchestra in Norway, which she held until 2002.
Having followed Challender's advice (and footsteps), her career was picking up tempo and flourishing. She was no longer in a small pond.
The parallels between the late Challender and Young are striking. Like Young, Challender was considered a specialist in the music of Richard Wagner, Anton Bruckner and Richard Strauss, and he too grew up listening to classical music on ABC Radio.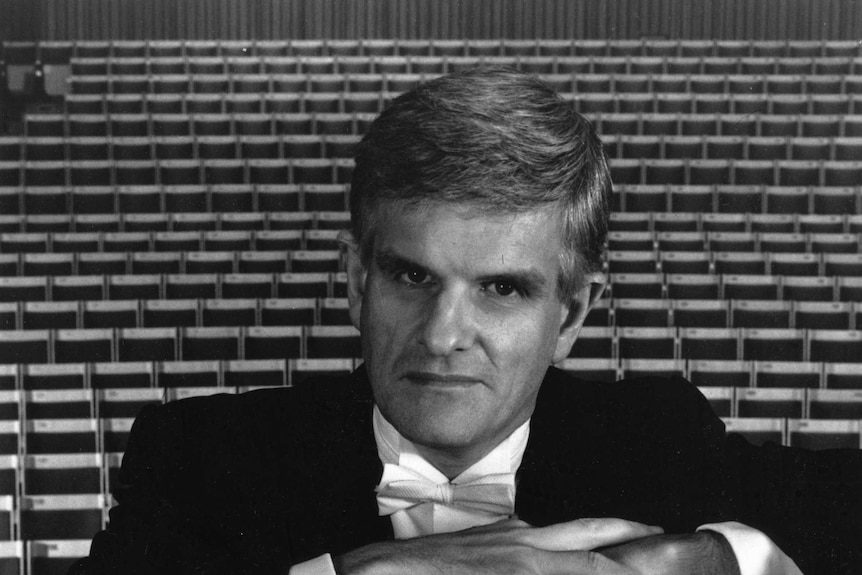 When Young accepted her current post with the SSO, she followed directly in her mentor's footsteps, becoming the third Australian conductor to helm the orchestra in its 90-year history. (The first was Sir Charles Mackerras; Challender was the second.)
The pair also shared a studiousness and a deep respect for music.
On Challender's mentorship, Young says: "His passion for detail, his obsession with the music, his love of the German repertoire, his commitment to contemporary music and commissioning new work: all of these things have been absolutely part of my musical credo.
"I found all of this in Stuart and have continued to find this in great artists that I have admired over a lifetime. I hope that maybe people see some of that in me too."
A workaholic and a perfectionist
Young is a self-described "workaholic", known for her rigorous work ethic and attention to detail.
But it's not an idle boast – it's underpinned by respect for her position.
"And a general sense of being pretty unworthy of the huge privilege that this job carries with it," she adds.
"I get to travel around the most wonderful cities in the world, working with fabulous people on some of the greatest works of musical art that were ever composed. It's a hugely privileged life.
"One is constantly striving to live up to these extraordinary works that one is performing – that's what drives workaholism."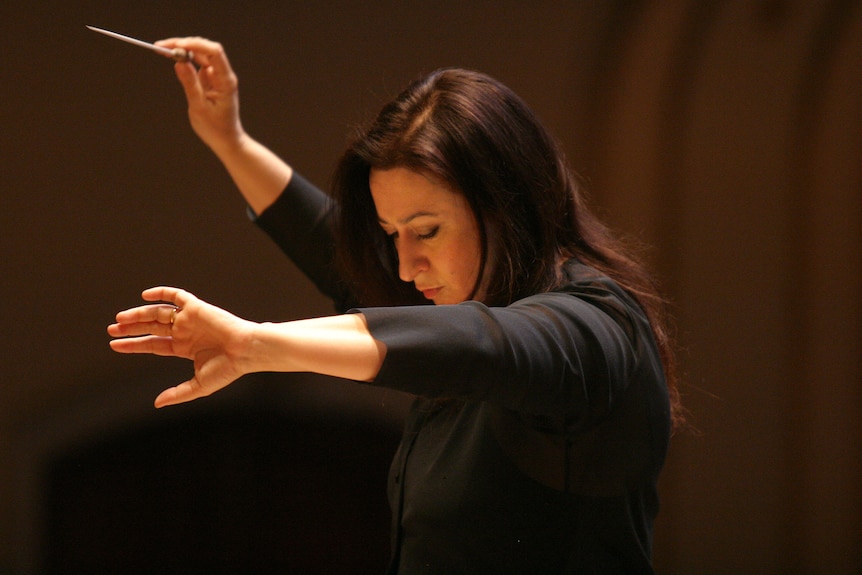 Young says her relationship to her work borders on "obsessive". As a perfectionist, she never feels that her work is "done".
"If I think getting up half an hour earlier and putting in another half an hour of study might just improve a few bars, then I'll do that.
"But there will be a moment when you feel that you can completely release control. That's when you've done as much work as you can.
"It's a very hard thing to learn to know when to release control," she says.
While her perfectionism has been instrumental to her success, it has also posed challenges.
In 2002, she was effectively fired from her position as music director at Opera Australia. She had been appointed to the role in 2001 alongside then-artistic administrator Stuart Maunder, after spending much of her early career working for the company. The appointment made Young the first woman to join OA's senior ranks. (Incoming artistic director for 2023 Jo Davies will be the first woman to hold the artistic directorship.)
Young was halfway through a three-year contract when the board decided to terminate it. The decision was a big blow.
"It was all very messy, very awkward, and very sorry for everybody involved," Young recalls in Knowing the Score.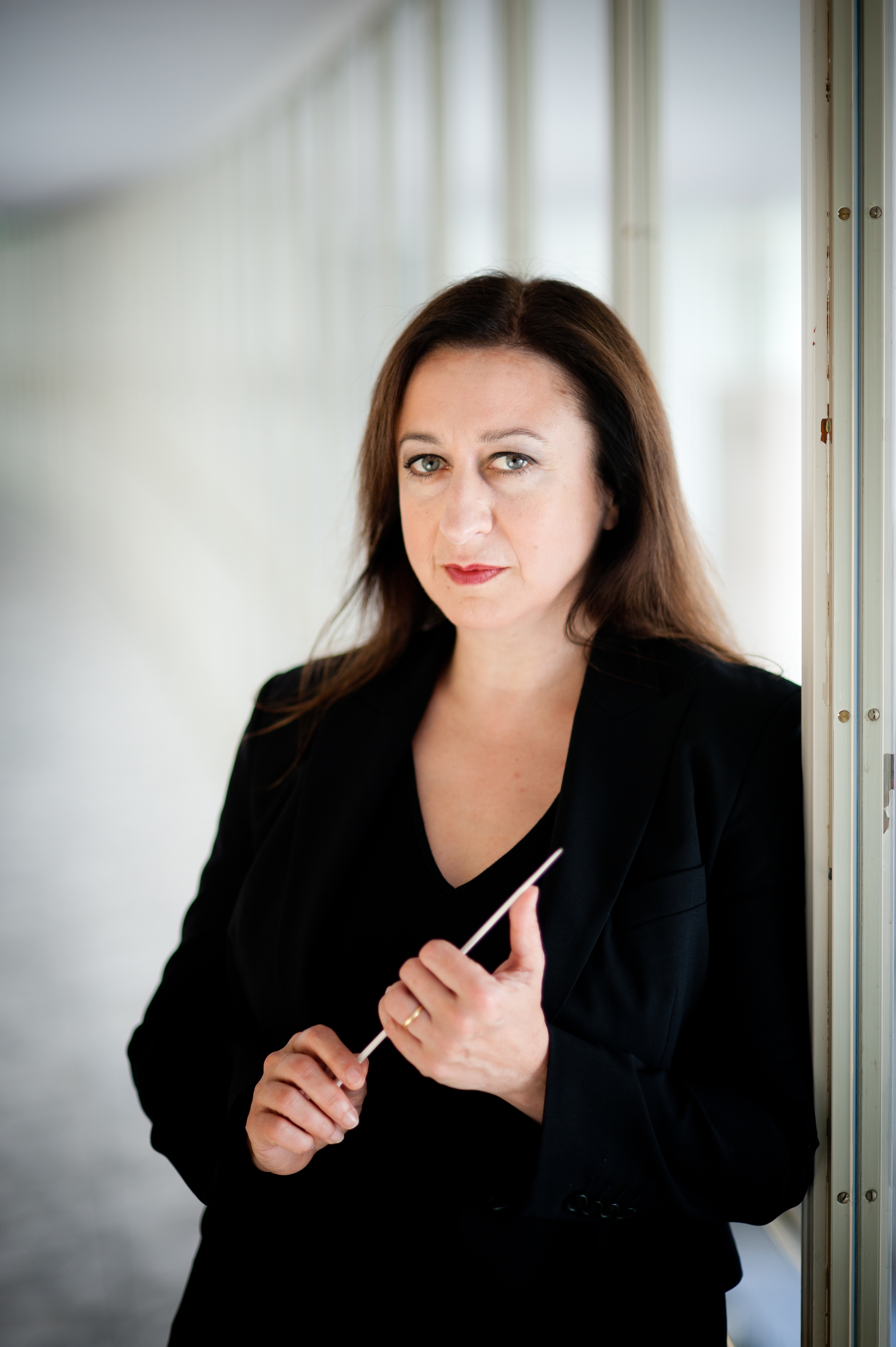 The attributes that had been the pillars of her success (workaholism; perfectionism) were proffered as reasons for her termination in media coverage at the time. It didn't help that the decision came as a surprise to Young who reflected during a press conference in Hamburg the following year: "I think the way the whole situation was handled was unfortunate. It wasn't dealt with in an open fashion."
Despite the humiliation, Young's response was dignified. In a press release following the announcement, she said: "My overall responsibility to the company is artistic, not financial.
"I have always said that if certain artistic developments could not be made, including an increase in the size of the orchestra and the chorus and maintenance of certain vocal standards, I would not continue as music director. This decision has now been taken.
"This is a very sad position for the national opera company and the arts in Australia. My admiration and respect for OA and its artists is undiminished."
Twenty years on, what seemed like a crushing defeat has only strengthened Young's resolve.
Humiliation to humility
After seeing out the 2002-03 season with Opera Australia, Young returned to Germany.
In 2005, she accepted a joint role as artistic director for the Hamburg State Opera and chief music director for the Hamburg Philharmonic; usually, one person would take on each position, but Young thrived in both jobs for nearly a decade.
In Knowing the Score, she reflects on that period, saying: "I don't look back on those times with any kind of regret or rancour because if I hadn't gone through all of that with Opera Australia, I never would've managed Hamburg."
The experience liberated her from a need for external approval. Instead, she was able to channel more of her energy into music.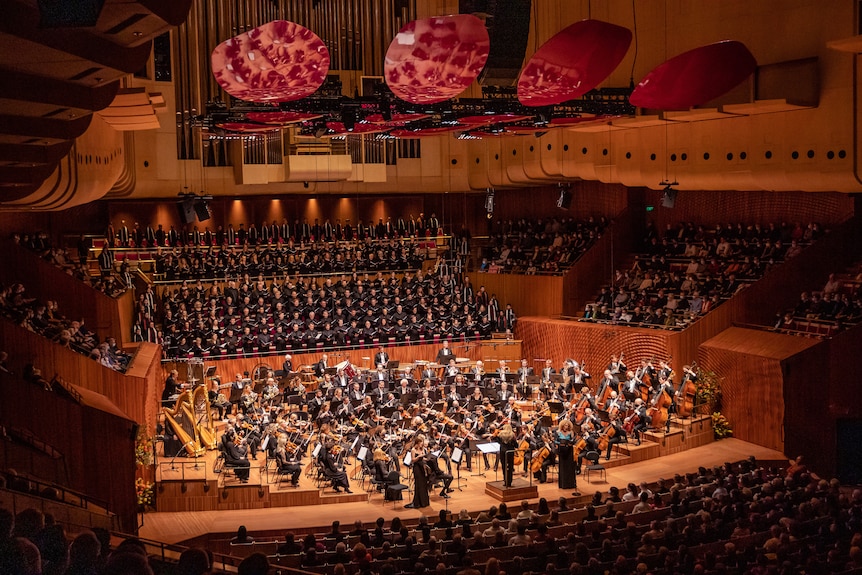 She tells ABC Arts: "I don't feel like I need confirmation of myself [anymore]. I am just trying to be the best interpreter of the works I'm performing that I can possibly be.
"There's always going to be somebody who's better, there's always going to be an historic recording that is so breathtaking you think, 'You're never going to even get close to that.' But [the key is] just constantly turning the focus off yourself and onto the music."
It can be difficult to keep that focus while conducting, Young says.
"Sometimes it's distracting to be in the spotlight because … when you're performing, you are the centre point of what the audience is looking at.
"But in fact, you're simply a conduct for the music. You're a conduit for the composer to speak to the audience," she says.
Her humility is also recognised by her peers.
In Knowing the Score, Debra Borda, president and CEO of the New York Philharmonic, describes Young as "confident" and "very focused".
"She's not a 'showboat', she doesn't show off on the podium," Borda says.
"It's about the music and that's a beautiful thing."
Self-assurance tempered by self-inquiry
When Young conducted Mahler's Symphony No. 2 with the SSO at Sydney Opera House in February, her self-confidence was clear from the moment she walked on stage.
Her command of the orchestra is deliberate and assured; at once fluid and judicious. She is a steady pair of hands.
With 40 years of experience, that's hardly surprising. Still, Young says self-assuredness came late in her career.
"I think most conductors spend probably the first 25 years of their lives thinking that they are a complete and utter fraud and that they're going to get found out one of these days," she laughs.
"I don't know anybody who's in an artistic profession who doesn't feel like that at least some of the time.
"I think that questioning oneself is very much a part of the artistic personality and that's part of what makes them be expressive and creative."
Notwithstanding her successes, it's clear Young is not one for flattery — gendered or otherwise. In sharing her story through Knowing the Score, she hopes simply to inspire more people to classical music, she says.
"I think if you ask almost every classical musician, we just want to share our love of what we do because it enriches our lives, and we believe strongly that it can enrich the lives of so many more people.
"I would like to think that if people can perhaps identify with me or find my career interesting … that maybe it draws [them] to take that step across the threshold of the wonderful [Sydney Opera House] Concert Hall and come and listen to concerts; turn the radio on and don't just dismiss ABC Classic.
"Have a listen, you'll be surprised."
Knowing the Score airs March 21 at 9pm on ABC TV and ABC iview.