AUBURN GRESHAM — Two candidates are heading to a runoff next month to fill Ald. Howard Brookins (21st) vacant City Council seat after besting opponents in a crowded race. 
Cornell Dantzler and Ronnie Mosley will go toe-to-toe in the April 4 runoff. Brookins initially planned to run for reelection but then announced in September he would retire after nearly 20 years in office.
Mosley garnered 24.7 percent of the vote, while Dantzler earned 22 percent out of seven candidates.
The candidates have pledged to bring more businesses and job opportunities to the community. Reducing crime, a top concern for residents, is also an urgent priority, they said.
The elected leader of the new 21st Ward will now serve parts of Auburn Gresham, Brainerd, Longwood Manor, Fernwood and West Pullman. The incoming alderman will make an annual salary of $142,772.
More on the candidates:
Cornell Dantzler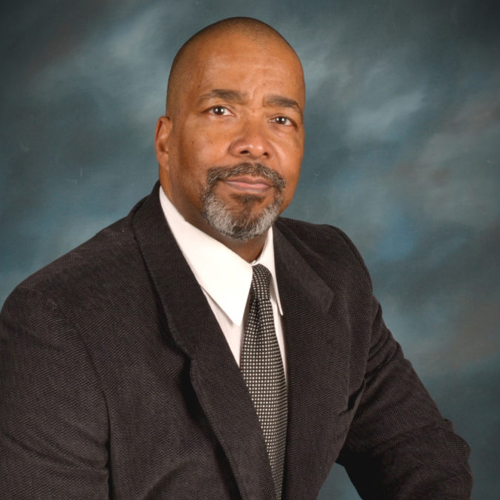 Cornell Dantzler has lived in Morgan Park and West Pullman for more than 50 years. He served in the Navy and was a firefighter with the Chicago Fire Department for 25 years. 
More than 40 years ago, Dantzler created the STEPS program, which helps youth "take positive steps in life" through community engagement, Dantzler said. 
Fellow lifelong neighbors "familiar with my community service" gave Dantzler the push to run for 21st Ward alderperson, he said. 
If elected, Dantzler's "five-point plan" will be to address public safety, infrastructure improvement, economic opportunity, service enhancement and trade development, he said. 
Remodeling the parks, providing clean-up services and welcoming new businesses to the ward are essential to helping the community thrive and reducing crime, Dantzler said. 
"You can't decrease crime if you don't have jobs available for those who committed the crime," Dantzler said. "I want to make sure people are coming together as a community." 
The 21st Ward has "so many of the same type of businesses," Dantzler said. His goal is to replace some of the vacant properties and lots in the community with new economic developments currently unseen in the ward, Dantzler said.  
Equal attention must also be given to older people and youth in the community, Dantzler said. He will help fund mentorship programs "during and after school," he said. He'll also designate a "special senior call line" so older neighbors receive immediate service when they notice issues in the community, Dantzler said. 
Unlike Mosley, Dantzler said he has "time and experience" in the ward. His leadership will "bring a new direction and way of doing things in the community," he said.
"I've been in the ward for 56 years," Dantzler said. "I have a lot of experience there, and I've served as a public servant in the community. That's a feat that's hard to beat."
Dantzler has raised more than $34,300 in contributions since December 2022. His largest donation, totaling $27,125, came the from Chicago Fire Fighters Union.
Ronnie Mosley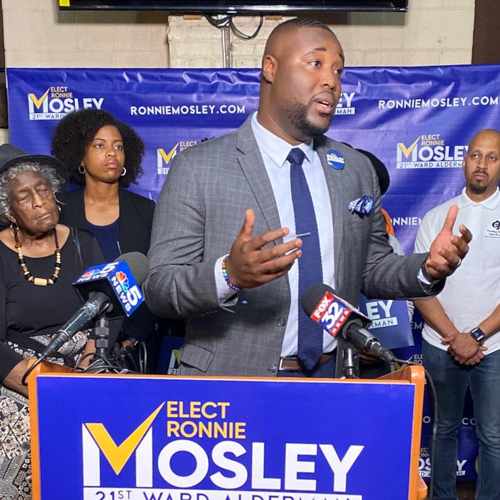 Ronnie Mosley was born in raised in the 21st Ward. He's lived in Washington Heights with his wife since 2019.
Mosley's mother had him at 14 and named him after her cousin, who was shot and killed shortly before Mosley was born, he said. His mother's cousin encouraged her to "go on, be great and make the family proud," Mosley said.
Mosley's goal as a local official would continue his lifelong purpose of "defying the odds," he said. 
Mosley is the founder of Homegrown Strategy Group, a consulting firm that helps communities and institutions enact political and policy changes. He's helped clients such as Gov. JB Pritzker and the Obama Foundation, he said. Mosley also organized for cannabis legalization and equity. 
Mosley's work as an organizer dates back to his time at Simeon High School, where he organized for gun reform after the murders of Chavez Clark, Gregory Robinson and Blair Holt, a close friend, he said.
While attending Morehouse College in Atlanta, Mosley fought for criminal justice reform and helped the Service Employees International Union unionize their cafeteria workers, he said.  
Dantzler has accused Mosley of falsifying academic records, claiming the candidate lied about graduating from Morehouse College. 
Mosley told Block Club he has not yet earned a degree from the historically Black institution, although his campaign website states he "completed his studies" at the college. He was "in and out" of the college because of affordability, Mosley said. 
"What I hear and understand is that when folks say they heard I completed my studies, they took that as graduating," Mosley said. "It is true that I'm an alum and a Morehouse man backed by the Alumni association, and I hear and understand folks when they say they feel misled. At that point, I can only ask for forgiveness and be clear. That's what I've been working to do."
Mosley will bring more than 15 years of experience as an organizer to the 21st Ward, he said. The community raised him, and now it's time to give back, Mosley said.
Mosley's top priorities will be public safety, economic development and supporting local businesses, he said. He also hopes to create more local resources for youth and older people in the community, he said. 
If elected, he'll begin his early days in office uniting the combined ward and "letting folks know that they have a role in shaping this ward's future," Mosley said. His office will be "in the heart of the community" so every member of the ward has "equal access" to services, Mosley said.
"There was an accepted way of life where only some people would get services, but that's just unacceptable and it won't be how I govern as the next alderman," Mosley said. "There will not be a situation where they divide the old versus the new."
Revitalizing the Major Taylor Trail is a "key project" Mosley will address if elected, he said. The trail is named after Marshall "Major" Taylor, a Black cyclist once known as the fastest rider in the world.
The trail should become a destination for rest, relaxation and healthy exercise for neighbors in the ward, Mosley said.
"The 21st Ward gets up each and every day to make other folks' lives better," Mosley said. "They should have some peace when they come home. They should be able to go for walks and enjoy a change of pace and scenery. The trail deserves to have the same attention and love as the 606 Trail — especially given its historic name."
The 21st Ward also needs an entertainment zone, better food options and reliable transit, Mosley said. Under his leadership, the ward will "see results," Mosley said.
"When I think about the 21st Ward living up to its potential of being the greatest ward in the city, it excites a lot of people beyond our base," Mosley said. "When people call my office, they're going to get actions and responses, and they're going to see results. I'm the only candidate ready to deliver that on day one."
Mosley has been endorsed by Brookins, Ald. Michelle Harris (8th), Father Michael Pfleger of St. Sabina Church and Gov. JB Pritzker.
His campaign has more than $132,800 in contributions since December 2022, including $20,000 donation from Pritzker, $30,000 from the Chicago Teachers Union and about $89,000 from SEIU. He also received $1,000 from 19th Ward Ald. Matt O'Shea, who won reelection last month.
Subscribe to Block Club Chicago, an independent, 501(c)(3), journalist-run newsroom. Every dime we make funds reporting from Chicago's neighborhoods.
Click here to support Block Club with a tax-deductible donation. 
Thanks for subscribing to Block Club Chicago, an independent, 501(c)(3), journalist-run newsroom. Every dime we make funds reporting from Chicago's neighborhoods. Click here to support Block Club with a tax-deductible donation.
Listen to "The Ballot: A Block Club Chicago Podcast":