Repurposing fallen leaves into eco-friendly paper materials, managing food waste, and optimizing agricultural techniques to improve plant health: these were just some of the ideas emerging from Ontario Tech University's Brilliant Catalyst Challenge this fall.
As a post-secondary leader committed to top-notch experiential learning opportunities that spark entrepreneurship activities, no matter the industry, Ontario Tech boasts an on-campus startup incubator known as the Brilliant Catalyst. Brilliant Catalyst's community hub of experts, entrepreneurs, advisors and mentors helps students develop their venture ideas, learn key business skills, and gain experience in their fields of interest. The dedicated Brilliant Catalyst space in the heart of Ontario Tech's Energy Research Centre facilitates idea generation, collaboration, and the formation of new partnerships.
Brilliant Catalyst Challenge overview
The Catalyst Challenge is the Brilliant Catalyst's annual hackathon aimed at tackling real-world problems faced by various industries across Canada. In just three years, nearly 300 post-secondary students at Ontario Tech and across Canada have engaged in the Challenge.
The 12-day Catalyst Challenge (September 18 to 29, 2023) focused on sustainability issues, specifically how to accelerate climate action in Canada and advance six of the United Nations' Sustainable Development Goals. It featured a variety of industry-specialized and entrepreneurship-focused workshops, including:
Introduction to Clean Tech
Sustainable Cities and Communities
Ideation and Validation
Brilliant Catalyst sponsors and supporting organizations
The Challenge was made possible through the Experience Ventures grant from the Hunter Hub for Entrepreneurial Thinking at the University of Calgary, and was sponsored by Aviva Canada (primary sponsor), the Regional Municipality of Durham, Invest Durham, Mintz Law, and the City of Oshawa.
Speakers from Invest Durham, Space Canada, Ball Corporation, Rotary Club of Whitby, Cobalt Hospitality Group, Manzil, Ontario Tech Libraries and other organizations supported the students who worked in teams to brainstorm and validate their ideas. Participants presented their business solutions in a pitch format to a panel of expert judges from Futurpreneur Canada, Aviva Canada, and Mintz Law.
All students received a $325 honorarium for participating in the Challenge, and prizes were awarded to the top three teams, along with an invitation to bring their ideas to life through Ontario Tech's Brilliant Incubator program.
Winning teams from the 2023 Brilliant Catalyst Challenge
First ($2,500): Enviro-Leaf – Each year, 90,000 tonnes of fallen leaves end up in Ontario landfills. Enviro-Leaf plans to change that by partnering with local municipalities to collect and repurpose these leaves into eco-friendly paper materials. Businesses and residents can access and purchase their sustainable products, contributing to a greener, more environmentally friendly community.
Second ($1,500): Microverse– By optimizing farming (soils and plants) in the era of climate change, Microverse plans to introduce sensors and drones to efficiently test plant health, and an intuitive app to simplify the data gathered. Their approach optimizes resource use, shifting towards biofertilizers, offering a quick, comprehensive solution to the challenges of modern agriculture.
Third ($1,000): Direct Farmer– Canadian consumers annually discard up to 58 per cent of food (approximately 11 million tonnes of which is edible). Direct Farmer focuses on mitigating the waste of edible food. Their mobile application connects consumers directly to farmers who are selling surplus produce, providing a second chance for consumption of these foods and reducing overall food waste.
Learn more: Visit the Brilliant Catalyst website for more information on how to get involved in the next Catalyst Challenge.
Quotes
"Brilliant Catalyst's mission is to inspire and empower the next generation of innovative change makers, and we do that by building a community of experts, entrepreneurs and advisors that fuel positive change and place brilliant ideas on the map. Congratulations to all of the 2023 Catalyst Challenge student innovators, and a sincere thanks to all of the incredible sponsors, judges and mentors for helping make all of this possible."
–Dr. Osman Hamid, Director of Creativity and Entrepreneurship, Brilliant Catalyst, Ontario Tech University
"We know that innovative solutions are essential for addressing climate change and its related impacts. I am grateful for the opportunity to see brilliant ideas around promoting recycling, using technology in agriculture, and reduction of food waste – all brought forth by passionate and talented students. Aviva is proud to support initiatives like the Catalyst Challenge and we congratulate the team at Ontario Tech for bringing such platforms to life."
–Shilpi Singh, AVP, Sustainability, Aviva Canada
Third-place team (Direct Farmer) at the 2023 Ontario Tech University Brilliant Catalyst Challenge.
">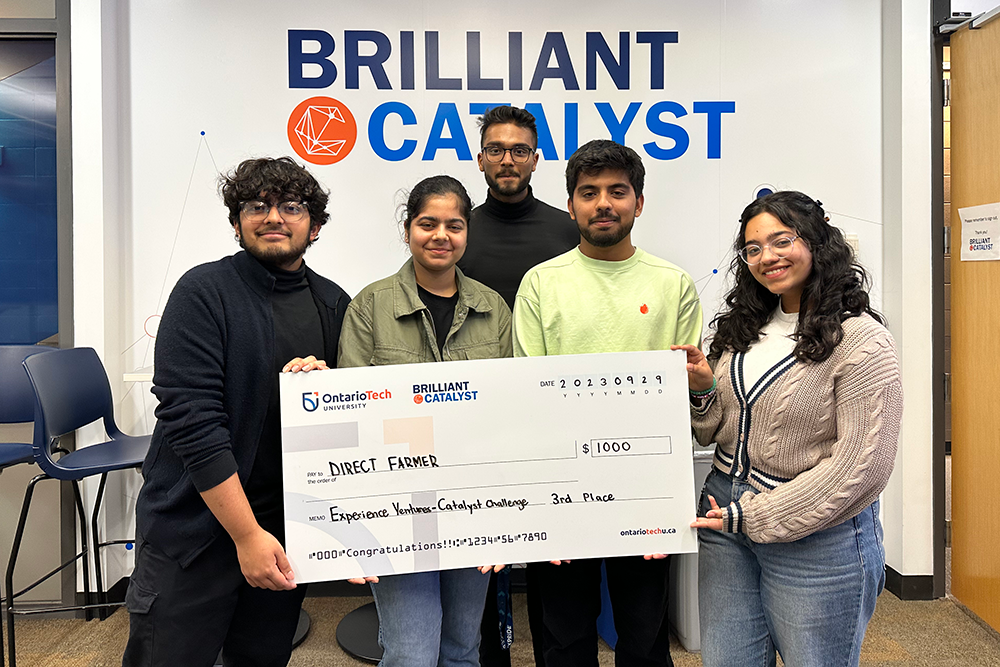 Image of graphic for the 2023 Ontario Tech University Brilliant Catalyst Challenge.
">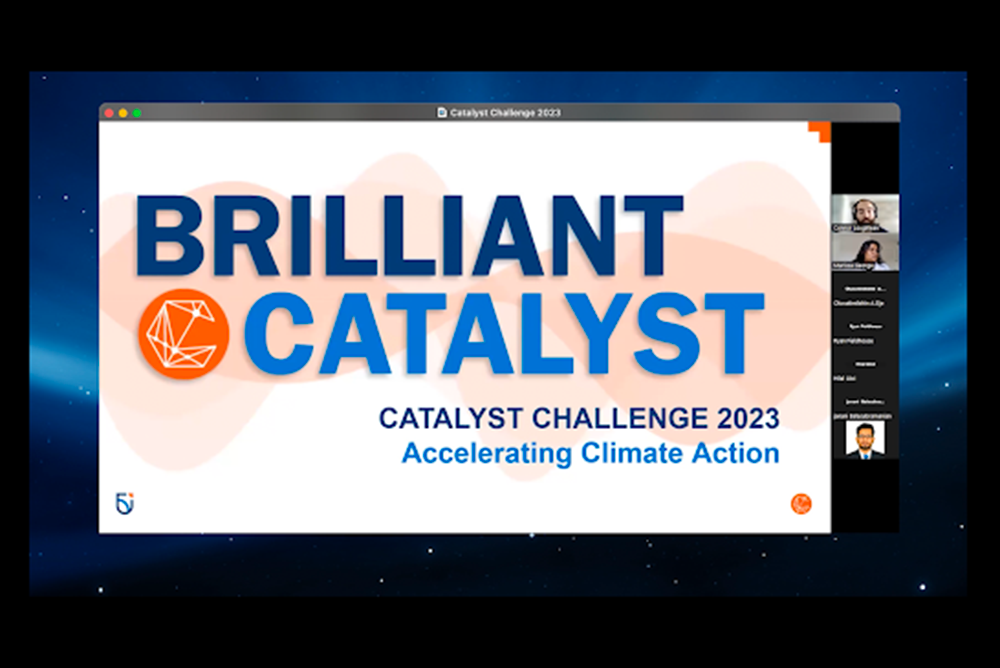 Screen-capture image of Enviro-Leaf presentation at 2023 Ontario Tech University Brilliant Catalyst Challenge.
">